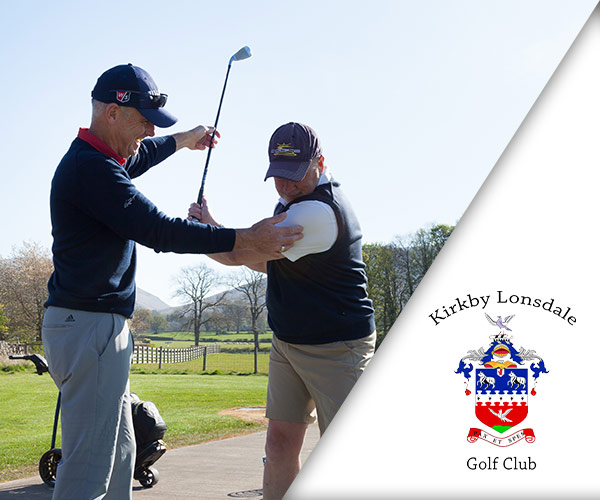 PROFESSIONAL TUITION
Whatever your standard of golf, from absolute beginner to experienced low handicapper, our Professional Team are here to offer the right help and advice.
It is always a good time for a lesson – destructive habits can develop over time and regular check-ups with the pro will improve your standard
and your enjoyment from this great game.
MEET OUR PROFESSIONAL TEAM
BETTER RESULTS FOR LESS
Spending several hundred – even thousands – of pounds on the latest equipment may indeed help to improve your scores – but investing far less in a course of golf lessons with our fully qualified and highly skilled professional team could well provide you with faster, better results.
THE PERFECT ENVIRONMENT
Kirkby Lonsdale Golf Club's facilities offer the perfect environment for coaching. Every aspect of your game can be worked on using our swing room, driving range, short-game practice area, or putting preen, all within 50 yards of the clubhouse.
PROFESSIONAL TUITION TO
TURN ANY BEGINNER INTO A
COMPETITION WINNER
PRICING FOR PROFESSIONAL TUITION
Lessons cost £25 for a thirty-minute session or £45 for one hour.
Get in touch with the pro shop to enquire about your pro-tuition by calling 01524 276366
JUNIOR GOLF COACHING
Give your child the right start in golf by learning to play golf in a fun and interactive environment.
Aimed at the younger juniors (aged 4 – 13), these group sessions are designed to be enjoyable, whilst allowing the child to develop skills. Junior group lessons feature not only golf skills but Fundamental Movement Skills (FMS) too. These include skills such as running, jumping, balancing, throwing and catching. Once a child has developed these basic skills, they will find it easier to improve their golf and at a faster rate.
Juniors are enabled to learn at their own pace in a positive environment, where teamwork, etiquette and self-discovery are promoted. The coaching groups are small; this allows the child to benefit from individualised advice. All equipment will be provided, if needed.
These Junior Beginner Group lessons currently take place occasionally – keep an eye out online or call the pro shop 015242 76366 for further information.
Ready for a handicap? Want to meet new friends who are at the same level as you?
The junior advanced group lessons are aimed at those golfers who may be ready to start thinking about getting their handicap. The sessions are more skill-focused and will include course-based activities. It's a great opportunity to meet other juniors who are at the same stage, while taking their game forward.
Please get in contact to book or for more information:
info@kirkbylonsdalegolfclub.com


Kirkby Lonsdale offers junior golf camps in school holidays. These are a fantastic opportunity for your child to progress their golf game, whether it be from basics or progressing their skills to the next level.
The camps offer a fun and engaging environment to progress a junior's golf game, offering a great opportunity to learn vital skills with more time to put them into practice.
Junior golfers will have access to a full range of practice equipment and practice areas during these sessions and, for the more advanced players, the chance to play directly on the golf course during the camps.
Dates will be announced before each holiday.
There is nothing quite like getting coaching with a 1-to-1 golf lesson. It allows a more individual  focus, with teaching developed in line with a young golfer's unique developmental needs.
Individual coaching lessons can be booked at a time convenient to you, with availability 7 days a week.
Error: Contact form not found.